Modern kitchens and contemporary designs
Does your current kitchen need a refresh? Our designers are brimming with ideas to create you a bespoke modern kitchen. From the cool, timeless and sleek to spaces filled with dramatic dark colours and warm metallic finishes, we have endless options to show you.  Beautiful and practical, our contemporary kitchen designs have exciting features to suit modern lifestyles and homes.
What is modern kitchen design?
Sleek, uncluttered lines
Slab fronts and handleless cabinets
Integrated and hidden appliances
Striking colours, contrasts and innovative materials
Smart technology and energy efficiency
Modern kitchens for different tastes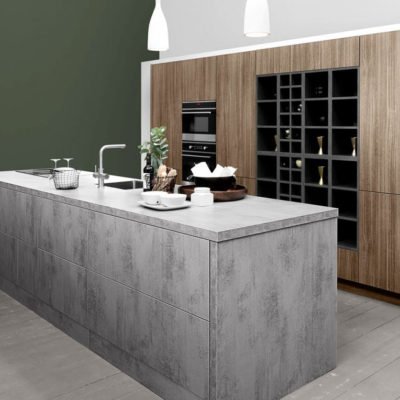 Industrial concrete chic
Solid concrete look units for geometry and simplicity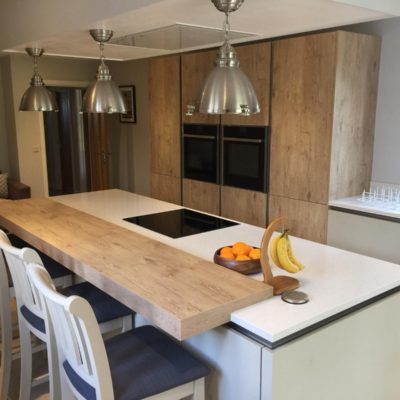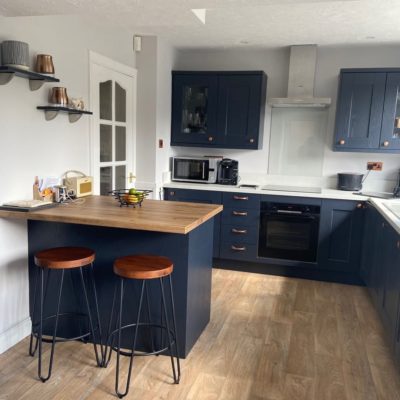 Exciting metallic finishes
Copper fixtures for  a modern twist on a traditional Shaker kitchen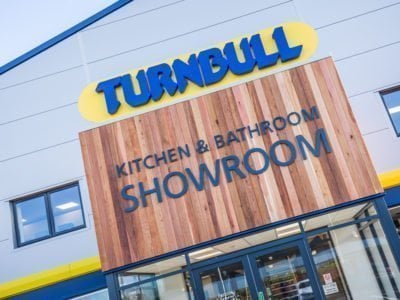 Browse contemporary modern kitchen ranges at your nearest showroom today.
Colour is king in the modern kitchen
Colour is a strong player in modern kitchen design. You'll find cabinets in dramatic black , rich greens and blues, soft dusky pinks and lilacs.  There are exciting burnished metallic finishes for a real wow factor. Or how about a striking monochrome scheme in white or grey, with the option of high gloss or matt surfaces – all partnered with the warmth of natural stone or timber?
Love the look of this handsome blue kitchen? Why not chat to our designers about using strong, classic colours for a timeless design?
Timber, stone and even concrete
Worktops, cabinets and flooring in elemental timber, stone and concrete finishes give your kitchen a timeless modernity. These are classic materials reworked to suit modern kitchen design. Wood and stone worktops now come in slimline formats, giving your kitchen a contemporary edge but showcasing the subtle beauty of natural surfaces.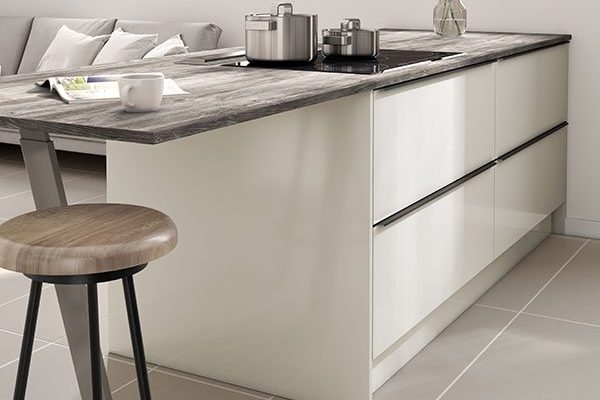 Highly personalised modern designs
Modern kitchen design is highly personalised. You want a gorgeous glass or mirrored splashback? No problem! Backlit open shelving to display some favourite items? Pop-up power towers and charging points? Everything is possible.
From bespoke storage to internal cabinet lighting and kitchen island configurations, our designers will explore all kinds of design ideas with you, using 3D visualisation software until you can see your perfect kitchen in front of you.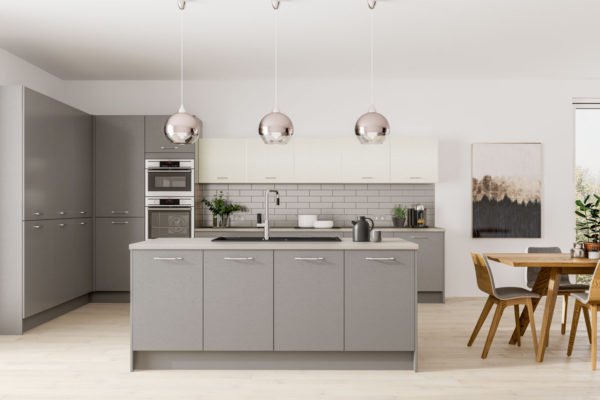 Symmetry and harmony in the modern kitchen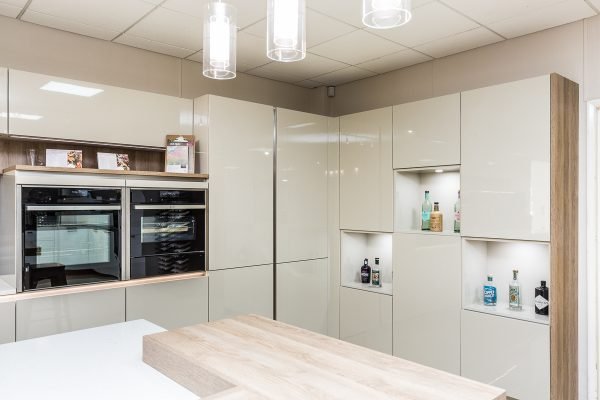 Modern kitchens feel open and spacious. Handleless kitchen cabinets with slab fronts create sleek, uninterrupted lines and hide the essential practicalities. Your kitchen designer is a wizard of geometry, creating balance and minimalism with the help of dummy drawer fronts, plinths and bespoke cabinet sizes.
This contemporary kitchen is on display at our Sleaford showroom, but you'll find a whole range of inspirational ideas at your nearest showroom.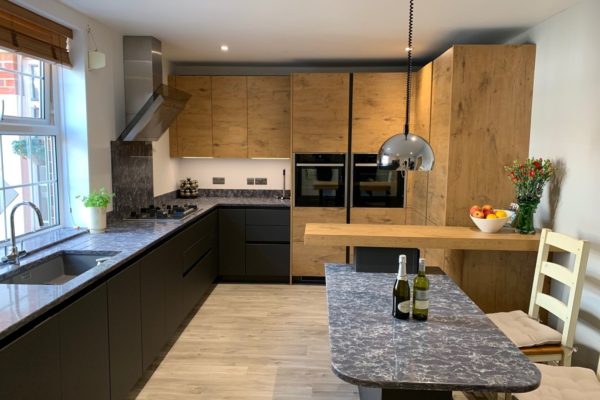 This designer kitchen showcases the drama of dark cabinetry in Carbon for base units, balanced by warm Wild Oak for the wall units. This stylish contrast of colours and textures is exactly what modern kitchen design delivers so well. Sightlines across all units have been carefully aligned by the designer – again to give a sense of balance and harmony.
Strong Colour Contrasts
Modern kitchen designs play with exciting and sometimes dramatic contrasts in colour, tone and texture. Dramatic black cabinets are balanced by warm wood tones. With a sleek handleless design and integrated kitchen appliances, this kitchen presents a beautiful uncluttered space.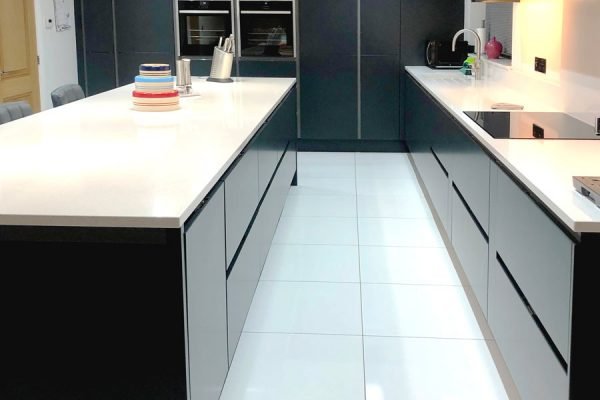 Exciting textures
Modern kitchens mix textures in inventive ways – cabinets come in gloss, metallic or timber finishes and splashbacks can be shimmering sheets of glass in any colour you want.  Accessorise your design with stainless steel appliances for appealing texture and variety.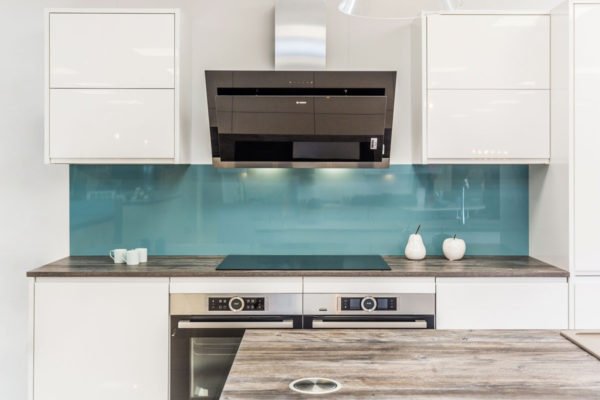 The latest kitchen appliances
Kitchen technology is exciting and fast-moving. Where better to try out the latest in induction hob design or smart oven features than in our showrooms? Turnbull is a NEFF MasterPartner® with specialist expertise in the latest NEFF kitchen appliances. Our showrooms are home to all the latest products for you to put through their paces.
Our customers love their modern kitchens
Make an Appointment
Speak to one of our expert kitchen designers about designing your own modern kitchen by leaving us your details below.