Fitting fence panels for the first time? Here's our quick guide to buying fencing materials and putting up a garden fence
Overlap or feather edge fence panels are both excellent choices if you're planning a new garden fence.  They're solid, practical, robust and come in various heights. Both are great options for back gardens where you need a secure boundary for ball games and pets, and protection for borders and shrubs. we do recommend fence paint – more on that below.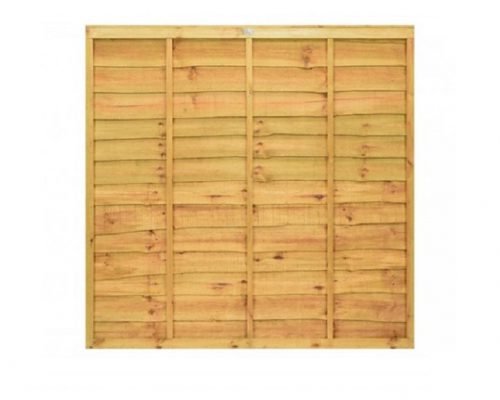 Overlap fence panels are made of horizontal slats that overlap as they are put together.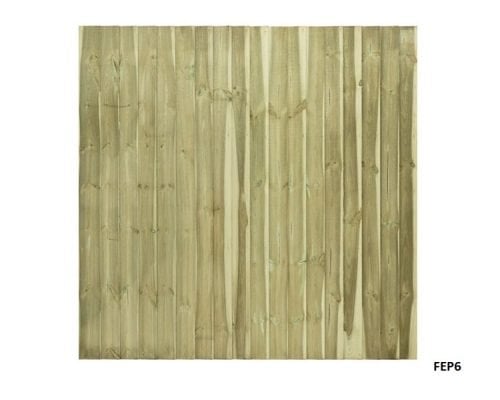 Feather edge panels are made up of vertical slats (also called feather edge boards or pales) which are thicker on one edge than the other.
Fence panel sizes: a quick guide
Fence panels come in a choice of standard heights. Each height can be extended with a strip of trellis:
Six foot fence panels or 1.8M (sold as 6×6)
Five foot fence panels or 1.5M (sold as 6×5)
Four foot fence panels or 1.2M (sold as 6×4)
Three foot fence panels or 0.9M (sold as 6×3)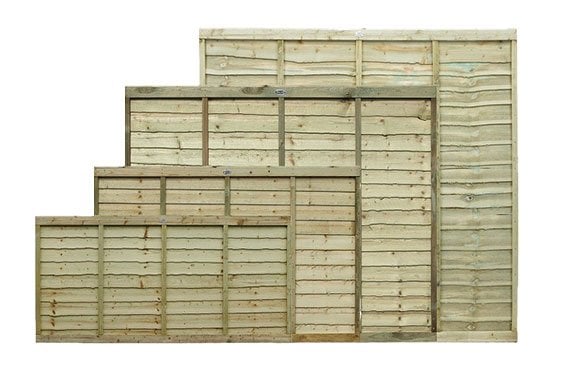 Concrete fence posts or timber?
Weighing up the pros and cons of concrete fence posts and timber posts is worth a moment of your time. Concrete posts are more durable and therefore last longer. But they're more expensive than timber and less versatile as a fencing material. Of course, looks might be the deciding factor for you – or it could be a maintenance issue that swings the balance.
Whichever type of post you choose, make sure you buy posts 2ft longer than the desired finished height of your fence. You'll get a stable post support and plenty of height to fit gravel boards below the panels.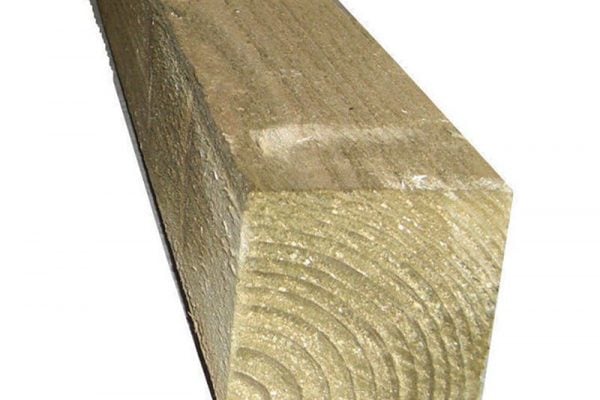 Pros:
Deep treated with brown or green wood preservative
Attractive natural product fades to a silvery grey over time
Made from sustainable FSC timber and recyclable
Incised timber fence posts soak up wood preservatives very effectively
Guaranteed against rot for 15 years when treated regularly
Easy to handle and cut to size if needed
Cons:
Require maintenance
Will not last forever –  unlike concrete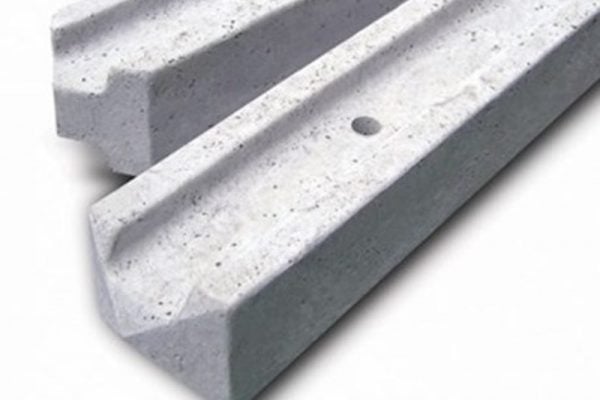 Pros:
Concrete fence posts last much longer than timber
They are steel-reinforced to resist high winds
They don't need to be treated with preservatives
Slotted design means fence panels just slide into place without fixings
Replacing old or damaged panels is very easy
Cons:
They're heavy – you need two pairs of hands at least to put concrete fence posts in position
They're not so attractive to look at
Metposts for timber fence posts 
Metposts are heavy duty metal post holders coated with red oxide against corrosion. Holders are ideal for installing fences over concrete patios or wooden decks and fence spikes drive into the ground to give you an alternative to post hole digging.
If quick installation is your priority, we suggest you check out the range of Metpost post supports, fence spikes and fixings.
Protect your fence panels with gravel boards
Gravel boards keep back soil, allow you to adjust soil levels and keep your fence panels from touching damp earth.  Steel-reinforced concrete gravel boards do a superb job in this respect, last forever and they soon disappear from sight behind planting and turf.
Gravel boards are really easy to install and replacing them is far cheaper than losing entire fence panels.
Postcrete: it's a no brainer!
Postmix or postcrete is a high quality pre-mixed concrete specifically designed for the fast setting of wooden, concrete or metal posts. Simple to use, just pour around the post and add water. This minimal mess option means your posts are set in 5 – 10 mins.
You don't need a cement mixer, or have to measure out the right proportions of materials, and you'll be confident your posts are set in good, strong foundations. You save time, packaging and labour.
Count on using two bags of Post Mix per post. Don't scrimp here or you might see posts supporting taller panels come down in a high wind.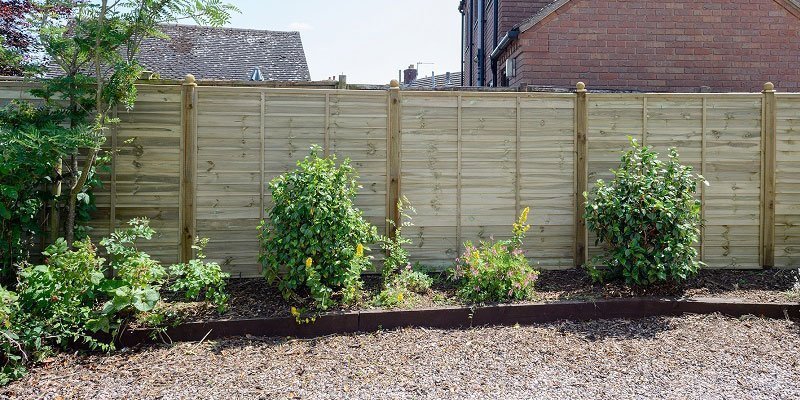 How to install fence panels
Tools you'll need for a fencing project (as well as two pairs of hands)
Stay safe – what to check before you begin
Find out whether any electric mains or pipes run underneath your planned fence line. This is a step you really don't want to miss. There are free online services like LinesearchbeforeUdig to help you with this step.
Protect your back! Consider hiring  or borrowing a post hole digger – a mechanical one man petrol hole borer makes digging post holes easy. They are great bit of kits and easily available from tool hire centres – it's not a wimp out – and essential if if you've got a bigger project, or simply want to get the job done quickly and efficiently.
Finally, check your boundaries before you get stuck in – putting up a fence in the wrong place is the most expensive fence of all.
Let's get started 
Step 1: Erecting the fence posts
If you're starting a run of fencing from your house or a wall, save work by attaching a 100mm x 47mm timber to the wall rather than trying to sink a post.
Measure out where each post goes and mark it with a stick. For 1.83m wide fence panels and 100mm posts, the gap will be 1.93m.
Dig a post hole to a depth of 450mm. You'll need a helping hand to hold the first post in position.  Use a spirit level to check it's vertical.
Use Postcrete to secure it in place and check it's still vertical with a spirit level. Smooth the concrete surface downwards with a trowel so that water can drain away from the wooden post. Now put up your last post in the same way.
Run lines between the top and bottom of these posts to show you the line of the fence. Dig and cement in the rest of the fence posts in their holes. Each post should  touch both lines and must be vertical.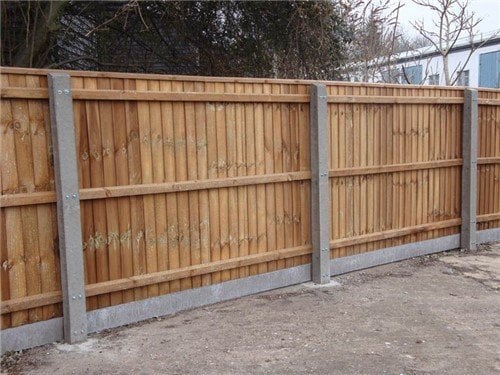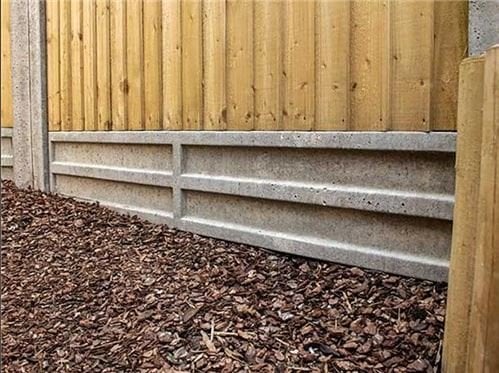 Step 2: Installing gravel boards
Next fix your gravel boards with galvanised screws inserted at an angle into the fence posts. If easier, use steel gravel board clips to secure them into position.
Make sure each gravel board touches the ground, and check they are level.
Step 3: Fixing a fence panel
Mark the fence panel's batten framing on both sides and at each end where screws or nails will go to secure the panel to the post. Drill pilot holes to prevent the wood splitting.
Position your panel and check it's perfectly level before fixing.  A piece of timber across the top of two consecutive posts and a spirit level are useful here to check the fence posts are level.
Fix the panel to the post through the pre-drilled holes in the batten framing.  Aim for each panel to be at least 25mm below the top of the posts.
An easier way to fix panels is to use two U brackets to the inside of each post and secure with 35mm external grade screws.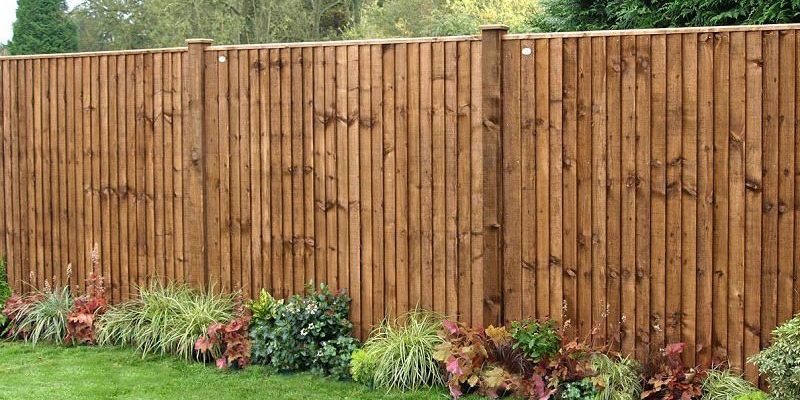 Step 4: Cutting down a fence panel to fit
No garden fence will be exactly the length of multiple fence panels and so you might have to cut a panel down to create a neat and secure finish. This takes a little more time, but isn't difficult and will make sure your final panel is as strong as the rest.
You can do this with a hand saw on your patio – but if you've got a circular saw it's a quicker job!
Cut the length you don't need and carefully prise off the end battens with a crowbar.
Tap out the nails in each section of batten half way, place them back on the shortened panel and hammer back into place.
Step 5: Time to get out the fence paint
Choose paint made for purpose like Ronseal Trade Fencing Stain for a really cost-effective, quick-drying protective stain for rough-sawn fencing timber.
Good quality fence paint will also protect your fence panels and posts for 5 years, making a tin or two a good investment.
It adds colour and weather protection to your posts and fences in just one coat, and includes a wax component for to repel water and UV protection to prevent colour fade.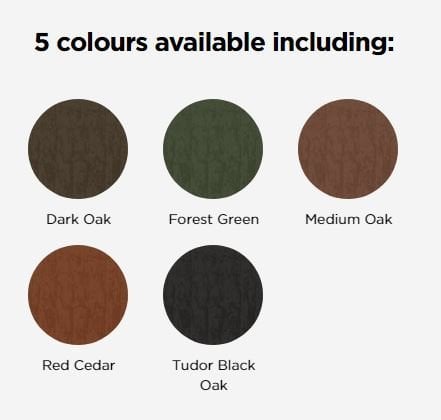 Tips on painting wooden fence panels
Paint dries better in warm conditions so wait for a good day if possible
Use a power sprayer if you are short of time
Use horizontal strokes for overlap panels, and vertical strokes for feather edge panels; basically, follow the direction of the wood grain for the best finish
Prepare for inevitable splashes – use googles, gloves and protect any existing plants or paving, or concrete gravel boards you don't want to get paint on.
Fence paint colours: a guide
Tried and tested colours tend to work best – and are easy to get hold of when you want to freshen up the look of your fence. Check out the selection of Fence Paint colours we hold.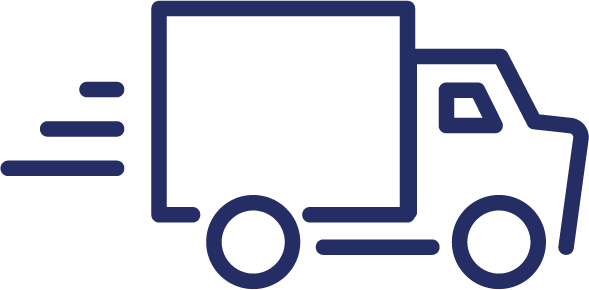 Fencing supplies to your door
FREE delivery for fence panels, posts, Postcrete and fixings – everything you need for a fencing project is available within a 20 mile radius of one of our branches. We deliver Monday to Friday, between 8am and 5pm and within 5 working days from time of receiving your order.