Patio cleaner or yard brush: which is best?
We have to say, the best and simplest way to keep a patio looking good is to give it a regular brush all year round.  Choose a decent yard brush (the stiff bristles do an excellent job) and shift all the lichen, moss, dead leaves and and twigs that have collected over time.  Clearing a larger area can be a bit of a workout,  but it's still the best and cheapest way to spruce up your hard landscaping.
Patio cleaners – when to use them on landscaping materials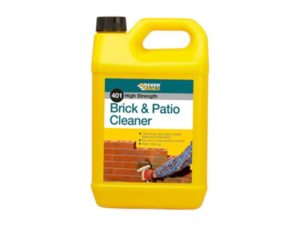 If you have some tough, stubborn stains that perhaps have been there a while, you'll be glad to know there are some tough acid-based patio cleaners out there. However,  beware – they can damage the surface of concrete paving, some limestones and natural stone paving slabs  which are sensitive to chemical cleaners. Follow manufacturer instructions to the letter and, if you are not sure whether it's a good idea, check with your supplier.
Patio cleaning using a pressure washer
Cleaning your paving with a pressure washer is effective, and much less tiring, but it's a good idea to test the jet on an 'out of sight' area – some power washers can be pretty fierce and might damage the surface of your paving.  Even though you might be tempted to give it a good blast, we advise you use your pressure washer on a low to medium setting and keep the angle of the spray quite shallow. And try not to spray directly on the jointing or you'll end up washing it away . If your pressure washer has a patio cleaning attachment, best to use it and check afterwards to see if any jointing material has been washed out. If you want to discourage weed growth, it's a good move to fill any gaps or thin spots straight away. In the battle against weeds, jointing compound is your ally.
Keeping weeds under control on patios and driveways
If you let dirt, earth and leaves to build up on patios and driveways, weeds will grow. It 's got to be said: regular cleaning keeps the weeds away. Pull out small weeds which have begun to take root. Tough weeds might need weed-killer – use a specific garden weed killer rather than a general, harsher herbicide.
Yearly cleaning routine for patios
It's worth having a good yearly maintenance routine for your hard landscaping– it keeps the problems away and prolongs the life of paving. You'll save money in the long run.
Spring clean
Give your paving the first clean of the year in the spring to remove any  algae, moss, dirt and debris that has built up over the winter. It's also a good time to check jointing, especially after the harsh winter weather and refill if needed. Replace any cracked or broken paving slabs before the busy summer months.
Summer check
Warmer weather usually means lots more outdoor activity.  Barbecues can lead to grease spots and spills. Our best tip is to clear up straight away – you're much less likely to have any staining.
Big autumn sweep up
A fall of autumn leaves can look sensational, but once the rain has come in and leaves and berries start to decompose, they'll potentially stain your paving.  A good regular sweep routine is essential especially to remove slippery leaves.
Winter weather watch
Clear high traffic areas of any snow and ice build-up. Lots of us use de-icing salts on our driveways and patios.  Products such as 'Magic Ice Melts' and 'Ice-Thaw Granules' are a bit more expensive than rock salt, but you can happily use them on all paving products and they won't leave any unsightly deposits. If you spread rock salt on your paving, you may notice some discolouring, but this is short-lived.  Your paving will soon return to its original colour after a bit of weathering.
Browse more ideas for garden landscaping, including useful tips about the best landscaping materials and products to buy from the Turnbull team.