Why buy porcelain paving slabs  for a garden patio? The Turnbull team has the answers
If you're thinking of using plain old concrete slabs for your garden patio, we'd like to put another option to you. Paving technology has come on leaps and bounds in the last 5-10 years. Porcelain paving slabs or vitrified paving as it used to be called, is well worth considering. These outdoor paving tiles have superb looks and technical performance which outstrips even the most luxurious Indian sandstones. They make really smart patio areas that will be the envy of your wider family and friends. Of course, if you only want slabs for a shed base or bin area, utility concrete paving is what you need, but if you're prepared to invest a little more in your landscaping materials, we think you won't regret it!

PORCELAIN PAVING SLABS :  SO MANY REASONS TO BUY
Porcelain is a great buy for homeowners –  and installers rate this paving too!
These stain-resistant patio slabs require minimal maintenance – the darker shades are especially great for busy family patios
They have attractive natural stone looks and riven surfaces – garden designers love them!
They're incredibly strong and and yet lightweight, making for easy installation – a large slab is still a one person lift
Moss and algae-resistant – need we say more? Porcelain paving is perfect for shady areas of your garden
Calibrated and rectified, they have sharp square edges for lovely narrow joints and a great modern look
They don't need sealing – that saves on installation time and annual maintenance
They create the ideal family-friendly non-slip patio surface – if you love the indoor/outdoor lifestyle, porcelain is an obvious choice
Why Porcelain Paving by Global Stone
Global Stone is an industry- leading paving brand in the UK and definitely a go-to porcelain specialist. Their Global Stone Station Range is our top pick for Turnbull customers looking to use porcelain  for the first time in a patio project. This is a large contemporary slab usually laid in Stretcher Bond pattern that comes in two sizes: 600mm x 1200mm and 600mmm x 600mm. It's a great choice for larger patios.
Black paving for a strong slate look
If you love the drama of charcoal and black paving, porcelain is the ideal choice.  Take a look at Global Stone Station Black Porcelain Paving  – it's designed to give you a contemporary slate look.  Station Black is a rich dark grey, delivering great style,  impressive technical performance and ease of installation in one slab. These slabs have natural-looking veining and a riven textured surface. We think they make a superb patio for a contemporary garden.
Love the traditional grey natural stone look?
Grey paving teams up perfectly with brickwork and lawns; it creates a fabulous backdrop for wooden garden pergolas and gazebos.  For grey porcelain paving with character, we suggest Global Stone Station Iron. You'll achieve the look of very traditional slate slabs, but with all the durability and low maintenance of the best high specification paving on the market.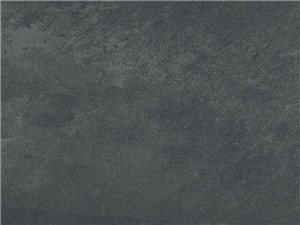 Global Stone Station Black:
Charcoal slate look paving
OUTDOOR PORCELAIN PAVING SLABS – YOUR FAQS ANSWERED
How is porcelain paving made?
Porcelain paving is made from a mixture of  clay and finely ground sand which is fired at an extremely high temperature.  It's this  process that makes them stronger than ordinary ceramic tiles and  suitable for garden patios. They are extremely dense and they don't absorb moisture.  Happily algae and moss find it very difficult to grow on a porcelain slab.
Is laying porcelain paving difficult?
The lightweight spec of porcelain slabs means they are each a one man lift. They're calibrated to one thickness, which makes laying easier and quicker too.  Manufacturers recommend a full mortar bed – no five spot dabs – and a slurry primer is applied to the back before laying.
Will porcelain paving give me a smooth modern look for my patio?
Yes, it's the perfect paving slab for that look! They have nice, straight, symmetrical edges which means narrow joints between 3-5mm. If a near-seamless installation is what you're after, then they are a great option!
How do I clean porcelain patio paving slabs?
 A quick scrub with a stiff yard brush and warm, soapy water is all you need to  keep your slabs looking good.
It's pretty stain-resistant, unlike natural stone and some concrete slabs, but it's a good idea to clean up food spills as and when they occur.
if you use a commercial patio cleaner, we suggest you test a small area – they can be quite fierce.
For a wider range of porcelain paving for patios, visit our specialist paving site, Merchant Depot. You'll find our recommended Merchant Depot porcelain ranges, including the extensive Marshalls Symphony range offering an exciting choice of finishes.
Browse more ideas for garden landscaping, including useful tips about the best landscaping materials to buy from the Turnbull team.